Activities
MAN-NA - Messianic Alliance of North America
Messianic Congregation located in Metro Atlanta serving Snellville, Lawrenceville, Loganville, Georgia

Simchat Torah (Rejoicing in the Torah) 2005
Celebrated the day after the last day of Sukkot. Begins the reading cycle of Torah, and includes dancing with the Torah 7 times around the Congregation.
Pictures from Simchat Torah
The Torah

The Torah Reading
Reading Davarim, then re-rolling the Torah to B'reesheet
The Processional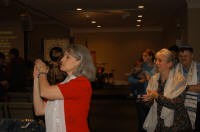 Messianic (Davidic) Dance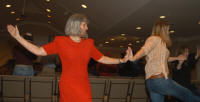 Information
Service Times
Saturday
Minha / Ma'ariv 4:30 pm
© 2004-2013 Yeshua Ha'Mashiach Ministries, Inc.
No part maybe reproduced without written permission.